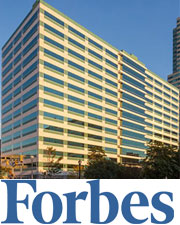 New Work On The Boards - Forbes Media
Office Relocation
The Real Deal
We are excited to announce that TPG will be designing the new Forbes Media office!
Forbes will be leaving their space in Greenwich Village and moving to 93,000 square feet at Washington Boulevard in Jersey City.
Forbes CEO Mike Perlis says the new space, "will give Forbes the opportunity to create a state-of-the-art media center."
For more information, click to read the article from The Real Deal