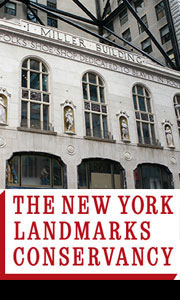 I. Miller Building Preservation Wins Lucy G. Moses Award
Lucy G. Moses Preservation Award 2013
New York Landmarks Conservancy
Located in Times Square at 1552 Broadway, the iconic I. Miller Building was recently awarded the Lucy G. Moses Preservation Project Award for 2013, as part of the New York Landmarks Conservancy. The project, which restored the original showroom for I. Miller Shoes, features statues of leading actors and actresses on the side of the building, as well as a limestone exterior.
Before and after photos of the building located at 7th Avenue and 46th Street are available via ScoutingNY here.
More information on the awards are available via the New York Landmark Conservancy.