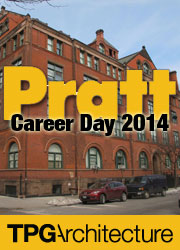 TPG Directors Attend Pratt Institute's Annual Career Day
February 20, 2014
TPG Marketing and Communications
Studio Director Thomas Hughes and Design Director Mavis Wiggins attended Pratt Institute's Annual Career Day on Thursday, February 20, 2014.
This yearly event is a special opportunity for Architecture students and New York Metro area Architecture firms to interact with one another. For the students, it provides an excellent venue to speak with representatives from various firms and prospective employers.
While there, Tom and Mavis showcased TPG's body of work and conversed with students about the industry and our firm.