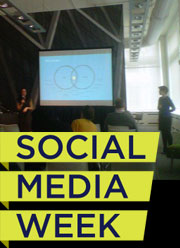 TPG's Directors of Strategy & Innovation Hold Presentation at Social Media Week
Social Media Week 2014
TPG Marketing & Communications
Last week, TPG's Directors of Strategy & Innovation, Kelly Bacon and Rachel Starobinsky, hosted a presentation at Teknion as part of Social Media Week.
The interactive presentation - Physical and Virtual Workspaces that Maximize Productivity and Innovation for the 21st Century – gave participants a thorough understanding of their own work habits, workplace productivity and how to maximize intellectual capability in their day to day lives.>
Congratulations to Kelly and Rachel on a great turnout and event! Stay tuned for a link to the presentation.