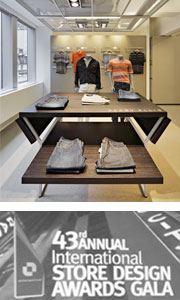 Perry Ellis Showroom Receives 2013 Award of Merit At RDI Awards
43rd International Store Design Awards
Retail Design Institute
The Perry Ellis Showroom was recently presented with an Award of Merit in the Brand Spaces Category at the 2013 Retail Design Institute's International Store Design Awards.
Since 1971, RDI has been celebrating exceptional retail experiences. Each year, the projects are judged by Professional Retail Design Institute members and top industry professionals.
The main Perry Ellis Showroom is spacious and loft-like, as metal, glass, wood and stone are the basic materials used throughout the space.
Photos of the Perry Ellis Showroom are available via the TPG website here and more information about the RDI International Store Design Awards is available here.