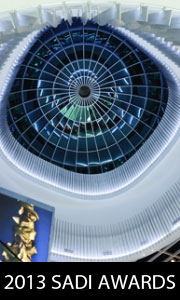 El Palacio de Hierro Receives Honorable Mention in 2013 SADI Awards
24th Annual Superior Achievement in Design and Imaging Awards
National Real Estate Investor
Designed by TPG, El Palacio de Hierro's Villahermosa, Mexico store recently received an Honorable Mention in the 2013 SADI Awards category for a New or Renovated Store - More Than 5,000 Square Feet.
Now in their 24th year, the Superior Achievement in Design and Imaging (SADI) Awards recognizes outstanding achievements in retail design.
El Palacio is recognized for its luxurious, service-oriented shopping experience, and the TPG team aimed to display this through a warm, elegant and inviting environment.
More information on the Honorable Mention is available here.