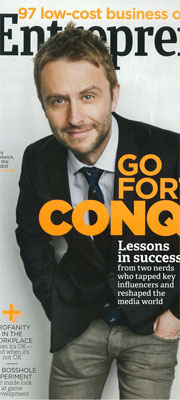 The Future of Office Design feat. TPG
When Architects Refer to Space
Entrepreneur August Issue
"When architects refer to space they don't mean the Jetson's Backyard," opens an article about the next wave of open workspaces featured in the nerd issue (Aug 2013) of Entrepreneur magazine.
Jim Phillips contributes ideas on branding, culture and hospitality in today's successful office environments. Everything that's physical should support the company mission," Jim remarks.
Click to read the full article here.