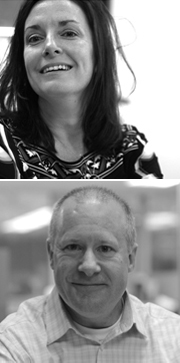 TPG Names New Co-Directors of Long Island Office
Associate Principals Helen Venticinque and Al Thompson Promoted
TPG Marketing Department
TPG is proud to announce new leadership in its Long Island office. Associate Principals Helen Venticinque and Al Thompson have been promoted to Co-Directors of the Melville office, which currently ranks #2 in the top 25 architecture firms on Long Island.
Ms. Venticinque joined TPG in 1993, and has served as a Programmer/Planner and Director of Operations. She has been responsible for shaping the work environments for major corporations headquartered on Long Island. She obtained a Bachelor of Fine Arts in Interior Design from the Fashion Institute of Technology.
Mr. Thompson joined TPG in 1998. He has extensive project management experience for corporate interiors, institutional/hospital and base building architecture projects. He earned a Bachelor of Architecture from the New York Institute of Technology.
"The new leadership in Long Island is consistent with TPG's firm wide commitment to excellence in design and client service," said TPG founder James Phillips. "Al and Helen have respectively 15 and 20 year service histories with the firm. As such, they are both tried and true, deserving proven performers. We are confident that the new leadership along with the support of Partners, Fred Strauss and Michel Fiechter will continue to propel the Long Island practice to be the firm of choice for the region."