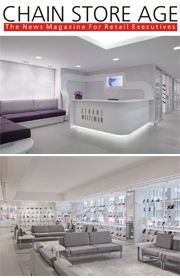 Stuart Weitzman Wins Award!
Retail Store of the Year
Chain Store Age
TPG came out on top in Chain Store Age's 2012 Retail Store of the Year design competition with Stuart Weitzman placing first in the Showroom category.
Going into its 32nd year, the annual Chain Store Age Retail Store of the Year Awards celebrates the best in retail and restaurant design. TPG is thrilled to be honored in this year's competition. Winners will be featured in the February/March issue of Chain Store Age.
Gary Rissler, Director of Store Planning, Construction and Facilities at Stuart Weitzman, summed it up best with his email message to the Stuart Weitzman company, "We all know the new showrooms are incredible and beautiful. As a result the design won 1st place in this year's Chain Store Age competition in the Showroom Category. We can all be very proud."
Congrats to the Stuart Weitzman team!