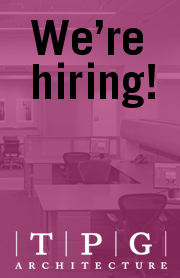 We're Hiring Project Managers, Project Architects & Designers!
Seeking Talented Professionals with Corporate and Retail Sector Experience
TPG Marketing Department
TPG is seeking bright, talented Project Managers, Project Architects, and Designers in both corporate and retail sectors. Ideal candidates will possess:
Degree from a five or six-year architectural program or graduate four-year program.
Experience in design development, architectural design, CAD documentation and detailing on a variety of corporate and retail projects.
Familiarity with TPG website and recently completed projects.
Proficiency in AutoCAD, Revit, and Adobe Creative Suite 5.
Excellent communication skills, with a good eye for great presentation design and creative design.
Please submit your resume, cover letter with position you are applying for, and work samples to: jcamlin@tpgarchitecture.com.