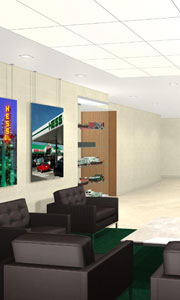 Hess in Kuala Lumpur Completed by TPG
100,000 Square Foot Office Moved In
TPG Marketing
In a body of work for Hess Corporation that includes projects in New York, London and Woodbridge, New Jersey, TPG adds new, significant projects to its roster.
The latest user group to move into its new offices is situated in Kuala Lumpur, Malaysia. In the last year we've also completed projects for Hess in geographies as varied as Ghana, Kurdistan and Paris.
We are presently completing a restack and renovation at the Woodbridge headquarters, the iconic building visible from the NJ Turnpike. TPG helped Hess save the building, rather than build new. The project is slated for LEED gold, and features a solar panel field designed by TPG along with the engineers and subconsultants.