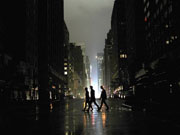 TPG Offices Are Open As of 11/5
Email and Phone Service Restored
TPG Partnership
To our clients and friends:
TPG NYC and Long Island offices were affected by power outages from Hurricane Sandy last week. As of Monday, 11/5, both offices reopened, with limited email, phone and network access. As of Tuesday, 11/6, all services have been restored.
Regarding our active clients and accounts, you should expect to hear from your Project Directors and Project Managers on a case by case basis.
For the latest TPG news, please visit Twitter and Facebook.
Sincerely, TPG.