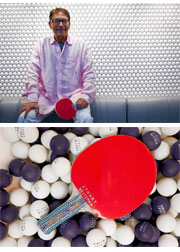 Wall Street Journal Features Stuart Weitzman's New Showroom
"A Childhood Pastime Finds Its Way Into a Shoe-Designer's Showroom"
The Wall Street Journal
TPG-designed showroom and offices for Stuart Weitzman were featured in the June 12th edition of the Wall Street Journal.
"As a boy, Stuart Weitzman says he used to play ping-pong virtually every day after school. Now 70, this women's shoe designer doesn't have to wait to play."
TPG incorporated the childhood pastime into the design of the new showroom, helping to rekindle his lifelong love of ping-pong.