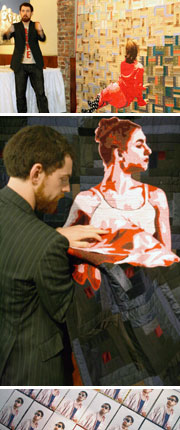 TPG Quilt Team Meets Pro Quilter Luke Haynes
Private Gallery Talk at Eli Alexander, 15 East 27th Street
TPG Marketing Department
Team TPG quilting member and the firm's dedicated Resource Librarian, Eileen Ragsdale, always has an eye open for anything quilt related to inspire the quilting team (team = IIDA Sustainable Quilt Auction).
So when she found a link to a small solo quilt show of Luke Haynes' near the office she coordinated a lunch time field trip for the quilting team and other interested TPGers.
"I discovered the show during its last two days and thought I had missed my chance to see it. After leaving messages with a few numbers for further info, the artist, Luke Haynes, called me back and said he'd give us a personal private tour!"
Team TPG has gone on several field trips to quilt exhibits in the past few years, but to have a personal tour with the artist is a rare and welcome treat.
Check out Luke's Website for a glimpse at his incredible work.