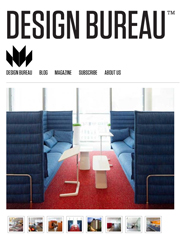 Design Bureau features Specific Media London
Studio Tour
Design Bureau
Specific Media's new London office was recently featured on Design Bureau's website, offering visitors a virtual tour of the space.
Design Bureau describes the space, "its new Central Saint Giles, London digs, the largest of its international offices, promotes collaboration via a smartly designed work-life space courtesy of New York-based TPG Architecture. Between the natural light, a cozy cubbies for meeting, it looks like a great place to spend the nine-to-five."
Design Bureau is the go-to place for creative professionals, style arbiters and industry leaders to connect and discuss the latest trends in design.