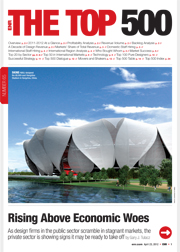 TPG ranks in ENR's Top 500
ENR's 2012 Top 500 Design Firms List
Engineering News-Record
This week Engineering News-Record put out its annual list of the Top 500 Design Firms. TPG is proud to be a part of this year's list coming in at No. 370.
Companies are ranked according to revenue for design services performed in 2011
For further details and to read the full article, click the pdf below.