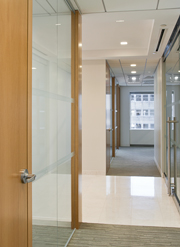 Eco-friendly Pre-builts
Paramount Building - 712 Fifth Avenue
TPG Marketing Department
TPG recently completed two pre-builts (9th and 11th floors) at 712 5th Avenue for Paramount Group, one of the largest privately-owned real estate companies headquartered in New York City. TPG's team assisted Paramount in introducing a sustainability initiative in which LEED practices and elements are incorporated into pre-built office design and construction practices to maximize energy efficiency.
This was achieved by utilizing LED technology in all light fixtures including the use of daylight sensors. Low VOC paints and low flow facets as well as the use of energy star rated appliances are used throughout.
Due to the success of the design of these two projects, Paramount Group now uses these elements in the construction of properties where pre-built projects require LED components.