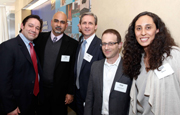 MUNICIPAL CREDIT UNION Ribbon-Cutting Event / Groundbreaking
Opening of Harlem Branch / Groundbreaking of Queens Branch
Marketing Department
On April 2, 2012, TPG's team for this financial institution and credit union, led by Jim Doherty (Principal-In-Charge), was in attendance at the ribbon-cutting event of their new Harlem branch. Pictured above (from left) Anthony Neal (Talisen Construction), Alex Rivera (MCU), Bob Knox (Talisen Construction), Mike Panzer (TPG), and Nancy Rossi (TPG).
The opening of the Harlem branch is of particular significance as it marks MCU's first branch in upper Manhattan and its second branch in the borough of Manhattan.
"MCU is excited to open its Harlem location, allowing us to provide convenient and excellent service to our members who work and live in upper Manhattan. We are also proud to be a part of a truly iconic neighborhood in New York. We look forward to continuing and growing our relationship with the community," said MCU President and CEO, Kam Wong.
Municipal Credit Union is the oldest credit union in New York State and one of the oldest and largest in the country. Established in 1916 and headquartered in New York City, today MCU has assets of over $1.7 billion and offers a full range of financial services to over 325,000 members. TPG has provided on-going services to MCU since 1995.
Additionally, TPG is proud to announce the groundbreaking of a new MCU branch in Queens. The full service branch, comprising 4,000 square feet, will become MCU's second branch in Queens.