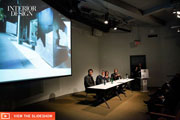 TPG Retail Director Participates in IIDA Panel
Panel Topic: "From Ground Up to Pop Up"
Designwire.InteriorDesign
The impact of technology, the economy and the evolving nature of retail design were among the topics covered in a recent panel discussion held in the auditorium at the House of Bumble in NYC's meatpacking district.
Interior Design magazine's articles editor, Annie Block, moderated the discussion. The panel included TPG's Retail Director, Diana Revkin, David Ashen, president of d-ash design and Boffo co-founders Faris Al-Shathir and Gregory Sparks.
Click here to check out the coverage on Interior Design's online periodical, designwire daily.