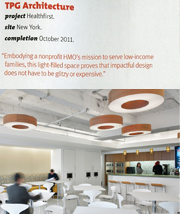 TPG Project Healthfirst Featured in Interior Design Magazine
"Positivity Issue" - March 2012
Interior Design Magazine
"How does a recent project make you feel good about the power of design?"
This was the question asked by Interior Design magazine in their second annual "positivity issue".
The March issue features an impressive portfolio of work from various firms, portraying the benefits of design at its peak.
TPG elected to showcase Healthfirst, which was completed in October 2011 in New York City, as a testament to this thoughtful theme stating, "Embodying a nonprofit HMO's mission to serve low-income families, this light-filled space proves that impactful design does not have to be glitzy or expensive".