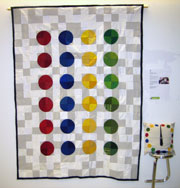 2012 IIDA-NY Quilt Auction Raised Over $7,000
TPG "Twister" Quilt a Great Success
Office Insight
This year's event, held at the Haworth showroom, produced some striking quilts and raised over $7,000.00 for Fiver Children's Foundation.
All of the quilts on display were a true labor of love; some design teams spent as much as six months on the finished piece.
We are proud to share that the TPG "Twister" quilt earned $1,000 at auction!
Read all about it in the February 27, 2012 issue of Office Insight.