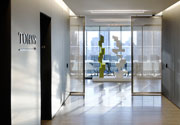 A Law Firm That Embodies The Latest Trends
First US Office for Canadian Law Firm, Torys
TPG Marketing
Canadian based law firm, Torys, moved into its new office on the 23rd floor of 1114 Avenue of the Americas. This is the first international office for this highly regarded business law firm.
Torys features the latest thinking in law firm planning. Extensive use of glass front walls maximizes views and daylight while flexible, collarborative spaces help create unity within the firm. In addition, the efficient secretarial station design and modular office sizes and furniture add a sleek, contemporary feel.
Torys' New York office furthers the Torys brand as a leading, forward thinking law firm.