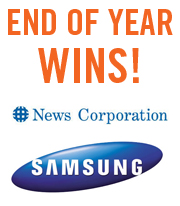 Ending 2011 on a High Note with Two Great Wins
TPG Awarded Projects for NewsCorp and Samsung
TPG Marketing Department
We are very pleased to announce our first wins for two very important brands: NewsCorp and Samsung.
The NewsCorp project consists of an office renovation for Fox Broadcasting at 1211 Avenue of the Americas, the global media empire's US headquarters.
The Samsung project consists of a regional office buildout in Bridgewater, New Jersey.
We look forward to engaging our new clients in the New Year!