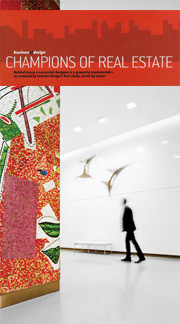 TPG project featured in Interior Design Magazine
Champions of Real Estate
Interior Design Magazine
Interior Design's November issue features a special report on the "Champions of Real Estate," developers and owners considered to be the industry leaders. TPG nominated SL Green Realty Corp. for 711 Third Avenue.
TPG had the pleasure of working with SL Green to restore this office lobby. The lobby, originally designed by William Lescaze, contains one of the few remaining Hans Hofmann mosaic murals. Although at first unaware of its significance, SL Green was entirely receptive to restoring and highlighting a piece of history to be enjoyed by the public.
To help preserve and honor its significance, TPG transformed the lobby into an exhibition-like space around the piece for visitors to enjoy.